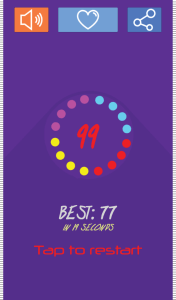 Color switch dot match game is challenging action game that is fun for all ages.
it's very simple to play but addicting and hard to master!. Color match do switch is reflex color match game for all ages.
This game has a different twist like you have never seen. Color switch and hit the same color dot.kids and adults and all ages can play this game and check your speed of taping.
How to play! the color dot wheel spin and you just tap the dot when same color dots comes in front of taping color dot. color switch have fun game. color swipe and color match are interested game.
Tap the color dot carefully and you will get higher and higher your score in seconds.
The beautiful and addictive hit game color switch Dot Match is available for you to Download right now.